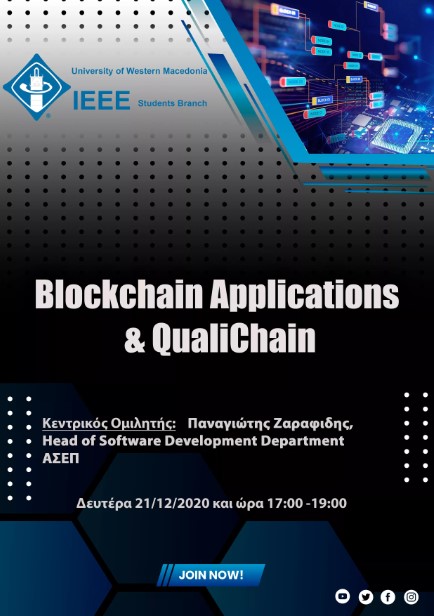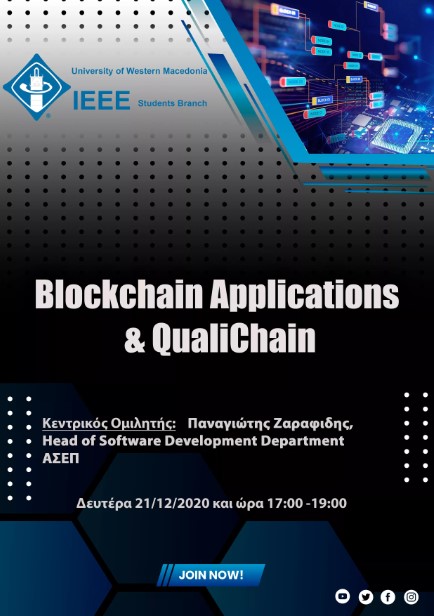 ASEP (Hellenic Parliament's linked 3rd party) gave a web presentation on December 21, 2020 titled "Blockchain Applications & QualiChain". The event was organised by the Institute of Electrical and Electronics Engineers (IEEE) Student Branch at University of Western Macedonia in Kozani, in collaboration with ASEP's Software Department. Its purpose was to present the key aspects of Blockchain technology, its broad applications in various sectors and the QualiChain project to an active community of students and the university's research team.
Among the speakers were Dr. Markos Tsipouras, Deputy President of Electrical Engineers and Computer Engineers Department, University of Western Macedonia, Dr. Konstantinos Siassiakos, ASEP Board Member & QualiChain Scientific Coordinator of the ASEP pilot, Panagiotis Zarafidis, ASEP QualiChain team coordinator, Christos Roumeliotis, Student and IEEE member.
In total, 70 people participated. It is worth mentioning that postgraduate and doctorate students showed their interest in the presentation.
The event was organized and promoted on social media, the university's and IEEE webpage by the members of IEEE Student Branch (Vassilis Balafas – President, Athanassios Liatifis – Webmaster, Spyros Economou – Vice President, Christos Roumeliotis – Contact Manager).
About the University of Western Macedonia IEEE Student Branch
The University of Western Macedonia IEEE Student Branch is the first branch in the region of Western Macedonia and the sixth in Greek Section. It is located at the Informatics and Telecommunication Engineering Faculty in Kozani. It was formed in the year of 2010, with initiative of Mr. George Papadopoulos (Adjunct Lecture ICTE, Academic Years 2008 – 2011), and the student Kwnstantinos – Ioannis Magoufis (Chairman of Student Association, Academic Year 2009-2010) in association with a group of volunteers. The main goal of the student branch is to enhance the engineering sense and abilities of the faculty students through activities.
About the Institute of Electrical and Electronics Engineers (IEEE)
The Institute of Electrical and Electronics Engineers (IEEE) is a professional association with its corporate office in New York City and its operations center in Piscataway, New Jersey. It was formed in 1963 from the amalgamation of the American Institute of Electrical Engineers and the Institute of Radio Engineers. Today, it is the world's largest association of technical professionals with more than 400,000 members in chapters around the world. Its objectives are the educational and technical advancement of electrical and electronic engineering, telecommunications, computer engineering and allied disciplines.