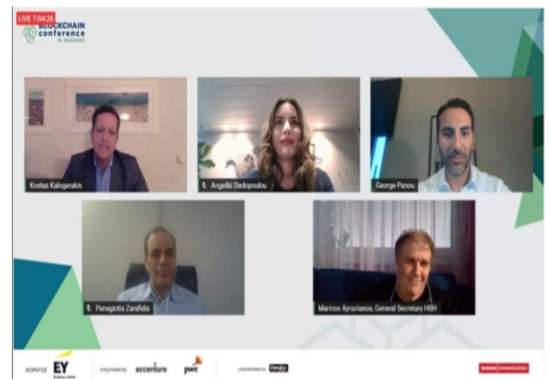 On December 2, 2020 ASEP (Hellenic Parliament's linked 3rd party) participated in a web conference titled "Blockchain in Business 2020" organised by the Hellenic Blockchain Hub and Boussias Communications where QualiChain and the Greek pilot were presented as an example of blockchain implementation in the public sector. Its objective was to highlight the prospects and impact of blockchain technologies for companies and large organisations in Greece, to encourage exchange of ideas and proposals as well as to promote business opportunities and digital transformation initiatives in Greek society based on decentralised DLT technologies.
The web conference was attended by more than 150 executives from various public and private organizations and gathered many prestigious speakers from Greece and abroad (Greek MP, International Academic Institutions, public authorities, private sector, developers, IT experts). 23 guest speakers maintained the interest of the audience for more than 7 hours while the feedback received as exhibited in a high Net Promoter Score for an online event (59) was very positive.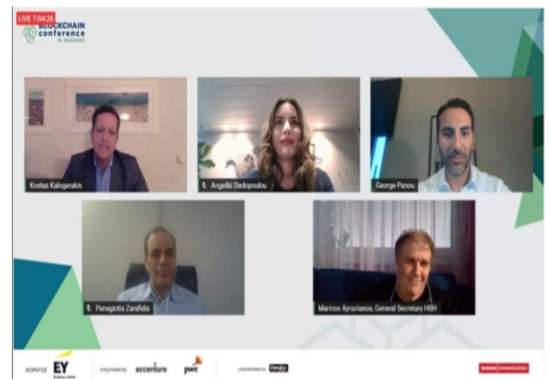 Photo taken from the closing Panel "Deep Dive: Public and private sectors leveraging DLT and what's next by Hellenic Blockchain Hub" with HBH Board members Kostas Kalogerakis, Aggeliki Dedopoulou, George Panou and Marinos Xynarianos and Panagiotis
Zarafidis
ASEP QualiChain team coordinator
, who brought an interesting perspective of 
how the public sector experiments with this new technology.