Staffing the Public Sector – The Case of Portugal
Objectives
This pilot focuses on leveraging QualiChain to staff the Portuguese public sector. For that purpose, the use case involves integrating the FenixEdu system with the QualiChain platform. FenixEdu is an academic management platform that supports full program and course management, including the issuing of diplomas (essentially, a pdf document that is printed, signed and stamped). This integration of FenixEdu with the QualiChain platform allows diplomas issued using FenixEdu to be automatically inserted in QualiChain's blockchain, allowing the Portuguese public administration – represented by AMA in this use case – to have access to all the diplomas issued by universities that use FenixEdu, within the access limits imposed by students and the schools' administrations. Qualichain's platform ensures the authenticity and integrity of the diplomas.
Stakeholders
Graduated Student

that finished the University degree or post-degree level and is eligible to request a diploma.

Diploma holder

representing the graduated student that received the diploma.

University secretariat

of a certain Higher Education Institution (HEI) that issues the diploma.

Public Administration body

(AMA) that is the prospective employer.
Scenario
First of all, the graduated student requests the diploma after completing the undergraduate or postgraduate education program. In reaction to this request the University employee publishes the diploma. Both use cases operate on the FenixEdu platform. This is the usual process that involves the academic management of the University (HEI).
Given that diplomas are published in FenixEdu, this platform is also responsible for triggering the action of deploying the diploma file in QualiChain that corresponds to the deployment of the hash of the pdf diploma file. The objective of this mechanism is to leverage QualiChain to ensure the diploma's authenticity and integrity. From this point forward the Diploma Holder is the owner of his/her diploma, and is able to grant, or revoke access (forever or within a certain time frame) to a specific Employer using the QualiChain platform. 
More specifically, for this pilot, AMA requests access to the diploma which needs to be granted by the Diploma holder. Then, AMA, after receiving the diploma file, uses the QualiChain platform to verify the authenticity and integrity of the University diploma. If the hash of the diploma file is equal to the one stored in QualiChain, then those properties are assured. To guarantee personal control, at any time, the Diploma Holder can revoke access to his/her diploma file hash.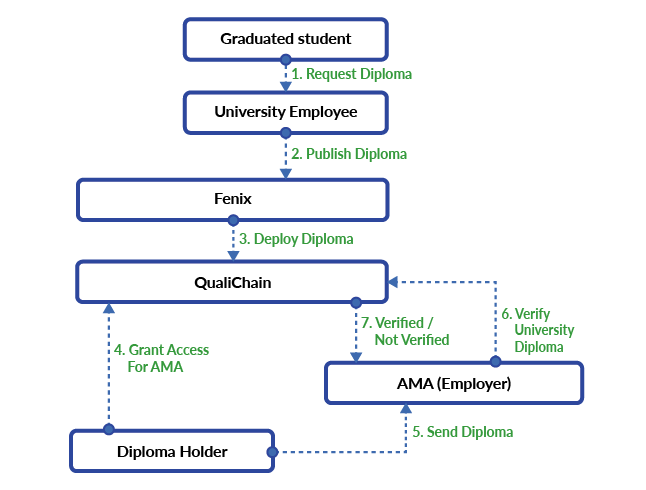 More info
Click here for the source code of this mock-up.