Staffing the Public Sector – The Case of Greece
The Supreme Council for Civil Personnel Selection (ASEP), an independent authority responsible for public sector recruitment, participates in the European QualiChain program as a linked third party of the project, in collaboration with the European Programs Service of the Hellenic Parliament (HeP).
Objectives
The main goal of this pilot is to support, simplify and improve the public sector recruitment and competency management procedures. More precisely the ASEP pilot focuses on optimising internal evaluation procedures pertinent to the evaluation, selection and recruitment with respect to the candidates' qualifications. Furthermore, the pilot has the following main objectives:
Provide

personalised candidate notifications

for job vacancies by matching individual profiles with available jobs in the civil service. 

Validate

academic and professional

qualifications

of individual candidates.

Improve

the efficiency of the recruitment process in terms of

time

and

credibility

.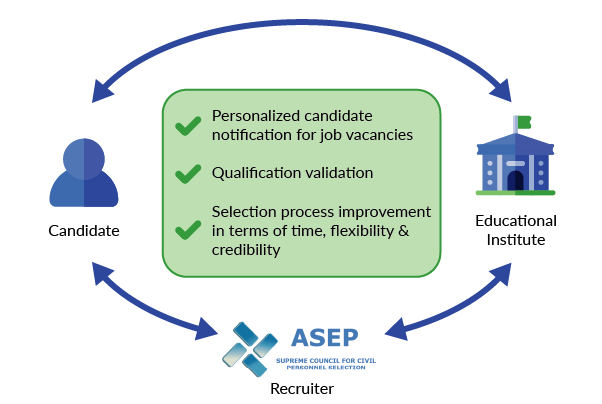 Stakeholders
The stakeholders of the ASEP pilot are the following:
ASEP council members and employees as publishers, evaluators, validators, and decision makers with regard to the candidates' qualifications and the entire selection process in general. 

Citizen/Candidate as the main participant of a selection process and the owner of qualifications. 

Public Entity as "customer" of ASEP selection process and the future employer of the candidate. 

Qualifications' issuing/accrediting organisations and their personnel as (indirect) providers of qualifications or on the receiving end of requests for verification, by public entities. 
Scenario
Based on the scenario of the pilot an Issuing Organisation (i.e an academic institution) issues a qualification component (e.g. formal academic qualification) for a Citizen. In addition, the Issuing Organisation after getting the candidate's consent, uploads the qualification component to the QualiChain Platform and notifies the Citizen. The Citizen as a potential Candidate signs up to the QualiChain Platform and fills in preferences for notification regarding new vacancies in the public sector. Therefore, since ASEP announces vacancies and required qualifications on the QualiChain the Citizen/Candidate gets notified for new vacancies by the QualiChain Platform. Moreover, the candidate signs up to ASEP's Registry (if not already registered), fills in the qualifications, uploads the relevant proof of qualifications (e.g. university degree) and applies for the preferable job in the public sector. ASEP confirms the validity of the formal qualification and updates the ASEP backend. Regarding Highly Qualified Personnel, the process contains three additional steps*:
ASEP uses QualiChain MCDSS (Multi Criteria Decision Support System) to get an initial ranking of candidates.

ASEP proceeds to the stage of interviews based on this initial ranking.

ASEP uses QualiChain MCDSS to get the final ranking.
The Scientific Advisor of the Greek pilot is Dr. Konstantinos Siassiakos (ASEP Member). Click here to view the project team.
* From 15/5/2021, the personnel selection process has changed in accordance with Law 4765/2021.
More info